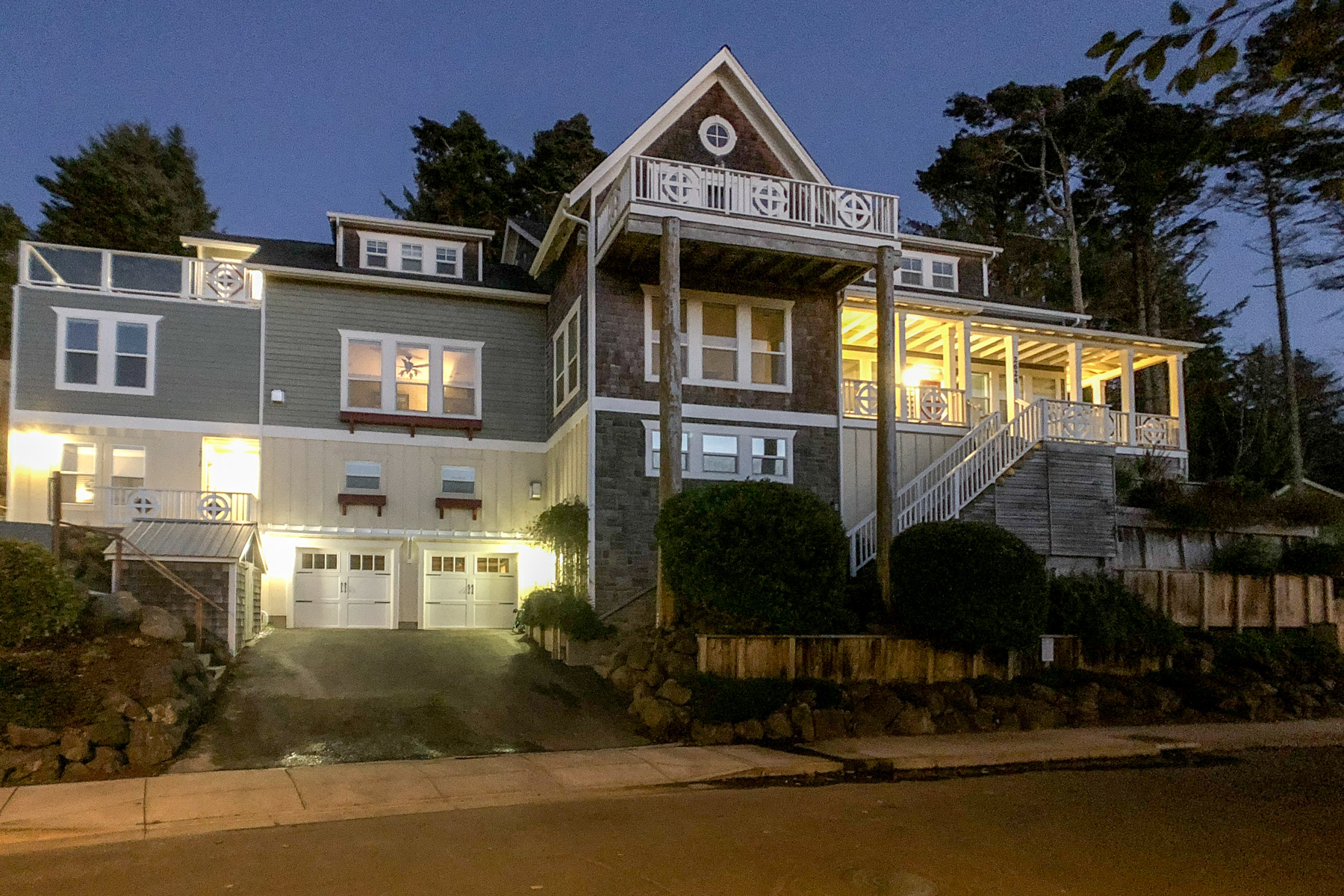 This property was built  in 2009 and originally had 6200 square feet and served up to 40 guests.  However, due to changes in the Lincoln City Vacation Rental Dwelling ordinances that took effect January, 2018, we had to add on another 1000 sq ft to the north side of the property and install a 4.5" firewall in the middle of the home to make it an attached duplex.  Therefore, the 2624 side of the home is approximately 4400 sq ft with 5 full baths, 2 half baths, 5 bedrooms (Library Suite, 2 large bunk rooms, main floor master suite, and Bamboo suite) an office, large living room, main kitchen and large dining area, exercise room and theater.
The 2618 side of the home is approximately 2800 sq ft with a galley kitchen, smaller living room, elevator, billiard family room, large entry/office area, 3 full baths, 5 bedrooms (Lodge murphy bed suite, Lodge front bedroom, 2 bunk rooms and large Captain's Master suite with a huge deck upstairs.  Both sides have separate entries, and lockout doors between them and can each accommodate up to 16 guests, but this home is designed to be used in it's entirety with the lockout doors open to accommodate up to 32 guests total.  There is parking in the south 40 foot RV garage and the north guest garage for up to 6 cars and an additional 8 cars in the north and south large driveways.  No parking is allowed on the street in front of the home.  Located just across the street from the popular Olivia Beach development in the historic Nelscott district of Lincoln City, this area provides public pocket parks with play structures, a sand volley ball court, fire pit, picnic tables and a boardwalk to the beach stairs.  This area is famous for it's active tide pools and the Nelscott Big Reef Classic – an international surf competition held twice a year with surf that rivals Kona, HI.  There are several restaurants and entertainment options within a short distance for your enjoyment.
There are no booking fees or services charges.
September 5 – December 31, 2023        Weekend Nights (Fri-Sat)      $925/night ,   Weekday Nights (Sun – Thurs)     $725/night
January – May, 2024                 Weekend nights (Fri-Sat)                     $850/night
January – May, 2024              Weekday nights (Sun – Thurs)               $695/night
2 night minimum, excluding holidays (3 night minimum) at $1025/night and Spring Break (4 night minimum) at $1025/night.
June 1 – September 4th , 2024         All nights (5 night minimum)         $1750/night
September 5 – December 31, 2024        Weekend Nights (Fri-Sat)      $925/night,    Weekday Nights (Sun – Thurs)     $725/night
Cleaning fee for this 7200 sq ft home is $625.00
Transient room tax as of January 1, 2023 is 13.5% calculated on the rent plus cleaning fee and includes State and Local taxes.
A $500 reservation/security deposit will be due upon booking and is fully refundable within 14 days of departure if the home is left as per the rules and regulations.
7200 sq. ft.
Sleeps: 32
Elevator
Elderly Friendly
Three gas ovens and one electric convection oven/microwave combo
Three additional microwaves
Two toasters and a toaster oven
Blender
Coffee Grinder
Coffee Maker – 60 cup coffee maker, plus 4 other 10-12 cup coffee makers along with a K-cup coffee maker. K-cups not included.
Cooking Utensils – Everything you will need plus some. Service for up to 100 plus a separate coffee bar.
Dishes & Utensils – Place settings for 100.
Dishwasher – (2) Bosch dishwashers located in main kitchen and lodge family room kitchen. Dishwasher in Lodge family room replaced in 11/2017. Kitchen dishwasher was replaced in 2016.
Freezer – Split freezer drawers in kitchen refrigerator and in smaller kitchen refrigerator.
Garbage Disposal
Gourmet Kitchen
Grill
Ice Maker
Kitchen – Fully equipped gourmet kitchen includes 48′ gas range w/6 burners, griddle/grill, 2 convection ovens, 2 broiler drawers, an in wall electric convection oven and microwave combo unit. 2 Bosch dishwashers, 1 in full kitchen, 1 in lodge family room kitchenette around the corner, 28.5 cubic foot french door refrigerator w/in door water/ice dispenser. Granite counters, 3 sets of quality cookware and place settings for up to 100. There's also a 55 cubic foot commercial refrigerator in the guest garage for all your backup refrigeration storage needs. Great for groups.
Mini Refrigerator
Pantry Items – Flour, sugar, spices and coffee bar items.
Refrigerator – Large capacity residential french door refrigerator with in door ice maker, plus + 3 mini under-counter refrigerators. Another french door refrigerator is in the smaller kitchen next door.
Stove – 48 inch 6 gas burners, 2 gas ovens, and a griddle/grill. Another gas range is located in the smaller kitchen next door.
Internet  – Secure internet connection with boosters for either wired connection in the office or wireless connection in most of the home.
Air Conditioning  – There are 3 ductless heat pump/AC units. One in each of the two bunk rooms and one in the theater balcony. All have remote controls.
Heating – Gas replaces on thermostats and electric zonal wall units heat this home efficiently.
Washing Machine – (4) Large capacity LG washers on main and upper levels, 2 large capacity LG washers in laundry room off RV garage.
Clothes Dryer  – (4) Large capacity LG dryers on main and upper levels, 2 large capacity LG gas dryers w/steam cycle in laundry room off RV garage.
Linens Provided  – All linens plus tablecloths, and 20 spa/hot tub towels included – not to be taken off the property to the beach!
Towels Provided  – Over 100 towels, wash clothes, and hand towels throughout the home.
Parking – There can be up to 14 vehicles parked on the property. Up to 4 (depending upon size) in the large RV garage, up to 6 in the RV garage driveway, 2 in the smaller garage and 2 in the smaller driveway.
Fitness Room / Equipment  – Treadmill, Smith machine and weight bench, Rowing Machine, 2 exercise bicycles, massage chair.
Fireplace – 7 gas replaces and 3 electric replaces provide romantic heat and ambiance in bedrooms and living area.
Garage – Attached double guest garage for 2 medium sized cars + large attached RV garage can park 4 small cars or 2 larger vehicles. No boats, RV's or motorcycles without prior owner approval.
Baby Gate
Broadband Access – Office w/DSL modem, printer/fax/scanner, laptop computer available. 2 apple TV units – 1 in theater, 1 in living room.
Ceiling Fans
Elevator – Residential elevator, max 3 people or 950 lbs.
Fax
Filtered Water
Intercom System
Living Room  – 3 couches, 1 with recliners, and 1 reclining loveseat make seating very comfortable around the gas replace and at screen TV w/surround sound and Blue-ray player.
Local Maps
Local Restaurant Guide
Paper Towels
Parking for RV/Boat/Trailer – Only with owner's prior authorization.
Parking Off Street – Guest garage driveway and RV driveway provide great off street parking. Along with garages, guests can park up to 14 vehicles. NO on-street parking allowed.
Shampoo
Sofa Bed
Telephone  – (2) Telephones for local calls only in kitchen and lodge family room.
Toilet Paper
Wireless Internet – WiFi available with security.
Wood Fireplace – Outdoor Chiminea located on the back patio.
Television  – Projector theater system, TV's in both living rooms and in all bedrooms except the library bedroom. TV's in the ofce, lodge bedrooms and exercise room use DVD's only.
Video Library – DVD library located in AV cabinet in Theater – over 100 titles to choose from.
Game Room – Game table available in the library with games, and game table available in the billiard room with cards.
Pool Table – In the billiard room along with darts.
Ping Pong Table
Books – Many selections available in the library and bookcase in the entry of the smaller unit.
CD Player
DVD Player – Several throughout the home.
Games – Many great games available in the main bookcase and entry bookcase in the smaller unit.
Piano
Radio
Satellite / Cable – (7) Direct TV premium channel & sports package available on HD projector w/133 inch screen in 42 seat theater, 47 inch HD flat screen TV in living room, 37 inch HD flat screen in lodge family room, 37 inch HD flat screen in main master suite, 32 inch HD flat screen in billiard room and 32 inch flat screen/DVD combo unit in Captain's master suite. Also available on 26′ flat screen/DVD combo unit in Bamboo master suite.
Stereo – Under-counter CD/Stereo with MP3 player jack available in the dining area.
Toys – Kids toys and books available in the little Kids library upstairs.
Video Game Console – (2) Wii game system in Gull's Room, X-box in Pirate's Cove room. These systems are not to be moved to other TV's.
Video Games  – (10) Many Wii games and X-box games.
Hot Tub  – Large 7 person hot tub on back deck. Must observe Lincoln City quiet hours of 7:00 pm to 8:00 am.
Sauna – 3 person infrared sauna w/CD player on back deck.
Balcony – (2) Private balconies off Captain's master suite w/seating and off the library with great horizon views. No children allowed on library deck due to height.
Deck / Patio – More than 2000 sq ft of deck space features 6 large picnic tables to feed up to 50, comfortable seating on wrap around front deck, and brick patio for evening camp res. New larger north deck.
Outdoor Grill – Large natural gas grill under cover on the back deck.
Porch / Veranda – Large covered front porch to relax during rain or shine.
Gray C. said…
Jul 10, 2018
Well maintained, clean, and very well equipped
2624 SW Coast Ave., Lincoln City, OR, 97367, United States
Date of Stay
Jun 29, 2018
5 stars
A very enjoyable experience. The facilities were excellent. Plenty of private space when wanted, and really nice common areas. The kitchen, it's selection of cooking utensils, and dinner ware were outstanding.
Karla S. said…
Mar 21, 2016
Women's Church Retreat
2624 SW Coast Ave., Lincoln City, OR, 97367, United States
Date of Stay
Jan 21, 2016
5 Stars
The Dawn Treader is a wonderful place for making memories, relaxing, fellowshipping, laughing, and doing it all in amazing comfort. The rooms are beautiful and comfortably decorated, spacious, welcoming, and easy to get a good night's sleep. There is every amenity that you would find in an upscale resort…and attention has been paid to every detail that women like…a bountiful supply of towels, shower amenities, hair dryers, etc. And the kitchen…oh my, you just have to see it for yourself. We loved the fact that our ladies' with knee issues had the use of an elevator, and while the house is very large it also has a snug and homey feeling There are nooks and crannies to carry on conversations, decks to enjoy coffee and listen to the surf, and of course a bit of outlet shopping for free time. The beach is a lovely walk and is always delightful. We have definitely enjoyed our time here, learned about the Lord, and delighted in fellowship. Thank you for a beautiful home that made us feel like queens. ladies of Woodstock Bible Church, Portland OR
Tauna M. said…
Aug 10, 2015
50th Wedding anniversary family reunion
2624 SW Coast Ave., Lincoln City, OR, 97367, United States
Date of Stay
Jul 6, 2015
5 Stars
This was the perfect house for our family reunion. We had the best time and there was plenty of room for the kids and adults. Something for everyone. We celebrated our parents 50th wedding anniversary while we were there. My sister made a movie of photos throughout those 50 years. It was so fun to be able to watch that in the movie room that had ample room for everyone. We loved the short walk down to the beach. Thank you for providing such a lovely home for us to enjoy this special milestone in. We had an amazing time.
My Response
We are so honored and pleased to provide an enjoyable place for families to celebrate such amazing milestones in life as a 50th wedding anniversary. This was exactly the purpose of building and offering this home, for families to make memories and deepen relationships, for our family and for those who want to partake of the beautiful Oregon Coast here in Lincoln City. Thank you so much for your care of the home, you have added to the spirit of joy in this place.
Matthew K. said…
Jan 15, 2015
Family Christmas and Bringing in the New Year
2624 SW Coast Ave., Lincoln City, OR, 97367, United States
Date of Stay
Dec 28, 2014
5 Stars
This retreat home was a wonderful way for our family to celebrate Christmas after the actual day and bring in the new year. We had four families and seven children who found exciting things to do all day. The kitchen had everything one would need to prepare any meal including a crock pot. The amenities were so much fun our family never wanted to leave to find something to do. The beach is just a short walk and provides nice exercise, the hot tub was very clean and perfect temperature, and the theater provided enough movies you could always find something you wanted to see. Everything was beautifully decorated for the holiday. The attention to detail and decorating was evident and enjoyed. Our young children did not want to go home and compared their stay with Disneyland and put it right at the top of their fun list. I would highly recommend any family or group get together to visit the Dawn Treader. You will be amazed and delighted.
Recommended for: People with Disabilities, Families with Young Children, Sightseeing, Girls Getaway, Adventure Seekers, Age 55+, Romantic Getaway, Families with Teenagers.
Aug 3, 2014
50th wedding anniversary family reunion
2624 SW Coast Ave., Lincoln City, OR, 97367, United States
Date of Stay
Jul 25, 2014
5 Stars
We had such a wonderful time at your house, Debbie. This was the best vacation of my whole life – especially since all our family, except one grandson, was able to be there. We loved the spaciousness of the house and can tell a lot of thought and prayer was put into it. It was so nice to have all the space for everyone. No one was ever crowded and the kids all loved it – they want to live there!! We thought the pictures on the internet of the house were great, but seeing it and living in it for a week were wonderful. Pictures didn't do it justice! We will remember this vacation always. THANK YOU!!
Recommended for: People with Disabilities, Families with Young Children, Sightseeing, Age 55+.
Kivlina B. said…
Jul 26, 2014
Reunion Ready – Break out the family recipes!
2624 SW Coast Ave., Lincoln City, OR, 97367, United States
Date of Stay
Jul 16, 2014
5 stars
This home lives up to the hype. The pictures and descriptions provided are spot on and you can rest assured your family will have a relaxing time reminiscing and cooking up a storm in this delightful home. My family (my parents, my 4 brothers and I plus our significant others and children) of 20+ just finished our stay here. The oversized kitchen and dining area meant everyone could hang out and cook and with three ovens, a 6 burner range and every kitchen tool known to man, boy were we able to cook up a storm! The thoughtful layout also meant we had a kids table and an adults table which made meal times a dream. There are TVs in nearly every room, but with a home theatre, who needs TV. There are many gathering places throughout the house, so little groups naturally form and allow for relaxed interactions without forced conversations or uncomfortable seating arrangements. I loved watching the cousins connect and multiple generations easily interact with one another. It also helped that each adult couple (6 total) had their own room they could retreat to for peace and quite. This was in addition to the two kid rooms. I can't tell you how happy my husband and I were to be able to vacation with out children without having to share a room with them. I was a little concerned about beach access prior to our arrival since the house isn't directly on the beach. However, I was pleasantly surprised by how close the beach is. It is just a short walk or bike ride (bikes are provided) away. It was actually nice to not be right on the beach as it minimized the sand and noise. The beach is clean and sandy. There are bathrooms and warm showers for washing feet. There are also many families who host campfires at the beach after dark. The house is well appointed and includes many touches that make it feel like home: ample throw blankets in the common areas, stools in the kids bathroom so they can reach the sink, mini fridges throughout, plenty of parking, etc. There is also a ping pong table in the garage that was a ton of fun. There are a couple of geocaches nearby as well that make for a fun outing. This was my families first reunion as adults and it couldn't have gone more smoothly. I can't recommend the Dawn Treader more highly and have left its sanctuary with a heart full of love and hope for a future filled with more gatherings like this one.
My Response
Thank you so much for your kind comments. We really try to live up a servant's heart example. Thank you for also letting us know about a few minor details that need attention (loose hinges, base of faucet loose in kitchen). All have been tightened and fixed. Again, we wouldn't be able to provide as complete and enjoyable of a retreat if it weren't for guests like you and your family. Blessings.
Grace A. said…
Aug 15, 2014
No Better Place For a Family Reunion or Retreat!
2624 SW Coast Ave., Lincoln City, OR, 97367, United States
Date of Stay
Jul 8, 2014
5 Stars
After coordinating Women's Retreats at Dawn Treader, I was finally able to show my family what a fabulous place I have been raving about for 3 years. Debbie does an amazing job of providing everything we could possibly need – even 2 waffle irons. I had the fun of walking each family through the house as they arrived and watch their jaws drop at the beauty and attention to detail. Debbie was available to answer questions and give us info as needed. She also followed up and even asked if we had any suggestions to make the home even better. We had lots planned for 21 adults + 14 kids and the decks, theater, access to beach and grassy area all made the facility perfect for us. Our retreat group is set to go back in 2015 and hopefully, every year after. Thank you, Debbie, for your vision!
Lorrie H. said…
Jun 28, 2014
Little Glimpse of Heaven
2624 SW Coast Ave., Lincoln City, OR, 97367, United States
Date of Stay
Jun 17, 2014
5 Stars
We just returned from our second year of having stayed at the Dawn Treader Retreat house. The house is perfect for our annual family reunion at the coast. It is clean, well-maintained, beautifully decorated, and stocked with everything anyone could possibly need or want. The owner is easy to contact and provides outstanding customer service. We hope to return here for many years to come. Thank you very much for sharing your little glimpse of heaven with us, Debbie. Houston-O'Rorke Families
Melanie M. said…
May 1, 2014
THE place to stay!
2624 SW Coast Ave., Lincoln City, OR, 97367, United States
Date of Stay
Mar 30, 2014
My family (actually 4 families) have been spending Spring Break together at the OR coast for 5 years now. It has always been a challenge finding a house that is large enough to accommodate the 20 of us. The Dawn Treader had all the room we needed and deluxe accommodations to boot! In the past we had been disappointed upon arrival at other rental houses to find that the house did not live up to pictures posted online or that certain amenities (mainly hot tubs) were in disrepair. The Dawn Treader is everything the website describes, and more, and everything was in working order. The home is beautiful, comfortable, clean and lavish. We will never be able to stay anywhere else. Debbie has gone to every length to make sure this truly is home away from home, and so much more!
My Response
Thanks Melanie, we look forward to your stay again next year!
Lee P. said…
Dec 31, 2013
Wonderful experience!
2624 SW Coast Ave., Lincoln City, OR, 97367, United States
Date of Stay
Nov 23, 2013
5 Stars
Well, it's been one month since our family spent a week at the fabulous Dawn Treader. We were there the week of Thanksgiving to celebrate not just the holiday, but my husband's mother's 90th birthday. Over 30 people were there and everyone was comfortable and happy. We had plenty of hot water each day for showers, plenty of washers and dryers, and a wonderful theater for watching movies and early morning cartoons. The furnishings are top-notch and we didn't lack for a single item in the fully equipped kitchen. Everyone kept saying it felt like we were in a 5 star hotel! Thank you again, Debbie. I hope we are able to return someday. It was a special experience we will never forget.
Recommended for: Families with Young Children, Age 55+, Families with Teenagers.
M & D from Salem said…
Nov 20, 2013
Incredible home for our family retreat
2624 SW Coast Ave., Lincoln City, OR, 97367, United States
Date of Stay
Nov 7, 2013
5 Stars
A perfect and beautiful home for our family to celebrate my parent's 61st wedding anniversary. Everything we needed plus much more was available from bikes to waffle irons, theme bedrooms with high-end furnishings. We could tell the attention to details was appreciated by the ladies in our group. Thanks to Debbie for her welcome and information along the way. Highly recommend this for group up to 30ish who'd like to stay in one location. Location is great to restaurants in Lincoln City and over the hill to the beach. Lots of steps to get there but you can take your time.
Kris Anne B. said…
Apr 22, 2013
A Bit of Heaven on Earth
2624 SW Coast Ave., Lincoln City, OR, 97367, United States
Date of Stay
Apr 18, 2013
5 Stars
I was one of many of the women from Immanuel Lutheran Church who were able to attend here on our 2013 Women's Retreat. I was completely amazed at this retreat home. It was such a joy to experience this place – the owners have put in so much hard and extraordinary work into thinking of the necessities and beyond! Thank you for the grander gift of this house and the smaller gifts of outlets, towels, shampoo, and more… This place is a witness to how God provides for us!
paige m. said…
Apr 8, 2013
Peaceful retreat!
2624 SW Coast Ave., Lincoln City, OR, 97367, United States
Date of Stay
Mar 24, 2013
5 Stars
We got to spend a week in this wonderful home. It was clean, and stocked with everything you could need, and want. We really enjoyed all this home had to offer. I personally enjoyed the sauna, and the hot tub in the evenings after a fun day spent on the beach. It was close to lots of activities, and great food. The owner Debbie is a joy to deal with. I would highly recommend this home.
Nicole O. said…
Jan 28, 2013
Wonderful Weekend Retreat
2624 SW Coast Ave., Lincoln City, OR, 97367, United States
Date of Stay
Jan 24, 2013
What a Beautiful Home to spend a weekend with close friends and family. The photos of this home do not reflect how PERFECT it is! The home is spacious with all imaginable amenities. Very clean and well maintained. There is no need to bring anything but your personal stuff – the kitchen is fully stocked with all cooking appliances, plenty of dishes, serving ware etc. Bedrooms have very comfortable beds and the furnishings are beautiful. The theater room is amazing! The neighborhood is very quiet and peaceful so not a home to consider for a "party" but perfect for a group or family retreat.
Camille E. said…
Dec 10, 2012
Lovely, handy, comfortable, delightful!!
2624 SW Coast Ave., Lincoln City, OR, 97367, United States
Date of Stay
Dec 5, 2012
5 Stars
Sandy Assembly of God, Sandy, Oregon: We stayed at the Dawn Treader for our Women's Winter Beach Retreat, 2012 and thoroughly LOVED the house. Everything we could have wanted was basically at our fingertips. The rooms were lovely, clean, and furnished with style and comfort. There were more than enough bathrooms, appliances and supplies to make our group of 26 women very comfortable. The elevator is extremely handy for hauling our cargo upstairs. The 42 seat theater is AMAZING. What a great idea! We have never found a place that accommodates a group this size so comfortably and with a church retreat's particular needs in mind. We are already planning our next retreat. What a lovely, handy, comfortable, delightful place for a large group to stay, thank you!!
Louise L. said…
Aug 24, 2012
Perfect Vacation
2624 SW Coast Ave., Lincoln City, OR, 97367, United States
Date of Stay
Aug 12, 2012
This house not only lived up to our expectations it exceeded them!! It is absolutely beautiful!! And we had the best (it was our first) family reunion! The beach is close, the park is close and if you just want to stay home, there is plenty to do. It was so nice for all of us to stay in the same place, that way we could spend half of the night talking and laughing, after we got the little ones in bed. Everyone in the family is asking when we can go back…we are hoping to very soon! Thank you for this beautiful home, we LOVED every minute we were in it! Ed and Louise Latimer and family! p.s. The kitchen was so great we even got the guys to do the cooking!!!
Response
Tyler E. said…
Nov 29, 2012
Rolling Hills Community Church
2624 SW Coast Ave., Lincoln City, OR, 97367, United States
Date of Stay
Nov 15, 2012
5 Stars
This was our 5th time staying here at this beautiful home. We have held several retreats for both adults and students from our church and the reason we have loved our times at the coast as much as we have, has been because of staying at this home. From beautiful bedrooms to spacious common areas for groups to hang out, play games, watch tv, or just socialize. We highly recommend this rental for anyone with large groups. The owner is lives nearby and is very friendly and resourceful for any needs or questions you might have!
linda said…
Nov 14, 2012
Prime Time Group
2624 SW Coast Ave., Lincoln City, OR, 97367, United States
Date of Stay
Nov 7, 2012
5 Stars
The house and furnishing were superior and made for the seniors retreat a pleasant experience. Each one express how much they enjoyed the house and want to return sometime in the future.
Recommended for: People with Disabilities, Girls Getaway, Age 55+
Steve E. said…
Sep 12, 2012
Our Family Reunion
2624 SW Coast Ave., Lincoln City, OR, 97367, United States
Date of Stay
Aug 30, 2012
5 Stars
This was a beautiful home with so many amenities. We enjoyed cooking in the beautiful kitchen, playing games, watching movies on the theater screen, playing pool, and going to the beach and the park! We would recommend this home for any reunion or retreat! We will definitely look forward to going back again! Steve and Carol Entz
Lisa R. said…
Jul 25, 2012
Outstanding place for a family get together. Wonderful place to relax and make family memories!
2624 SW Coast Ave., Lincoln City, OR, 97367, United States
Date of Stay
Jul 13, 2012
5 Stars
Our family had a fabulous experience staying in this beautiful home. It met all of our expectations and more. The house was clean, well kept, well stocked and very fun!! We had a great time and can hardly wait to return!! The owner was wonderful to work with and her house rules made it easy to just enjoy our stay and have a great time! The home is equipped with everything!!! Such a great family vacation!!
Recommended for: Families with Young Children, Girls Getaway, Families with Teenagers.
Jul 23, 2012
The BEST!
2624 SW Coast Ave., Lincoln City, OR, 97367, United States
Date of Stay
Jul 13, 2012
5 Stars
We arrived for a family reunion with some expectations, but what we got was over and
above what we expected! The owner of the property was wonderful to work with, she made
sure we knew exactly how to work everything in the house, she explained all of the house
rules and was very patient with all the children. We loved our time spent in this beautiful
home. In fact so much that we cancelled many of the activities that we had planned just to
stay close to the beach, park and things that were nearby. The children had many options to entertain themselves and the adults didn't seem to be lacking either. The house is equipped with EVERYTHING! Shampoo – laundry soap! Take your clothes and you're ready to go! It's a great place to build some wonderful family memories. We can hardly wait to return!! Thanks for a great experience!!
Shelley Maxfield P. said…
Jul 23, 2012
Amazing House!
2624 SW Coast Ave., Lincoln City, OR, 97367, United States
Date of Stay
Jul 7, 2012
5 Stars
Our family reunion could not have been better! We had 22 people (including 9 children) in this house and it was an amazing accommodation! The bedrooms were perfect, the kitchen was terrific, and the theatre was a special treat! The house is equipped with a huge 4 burner gas stove, a large refrigerator, 3 big ovens and a microwave, and 4 sets of washers and dryers – all in brand new condition. There is another industrial refrigerator in the garage that really "saved us". There are also dozens and dozens of towels! What more could you want? The living room, porches, sitting room, library etc. afforded us spaces for small conversations or as mini "get aways" when we needed less than the whole crowd. The hot tub gave the kids a place to regroup, the Xbox and Nintendo were enjoyed by the boys, and the chiminea helped us with a camp song fest! We appreciated the elevator and huge double car garages too. Thank you Debbie for the use of this wonderful home. We appreciate all you have done to make this beautiful house a workable, warm and friendly home!! The Perkins Family
John T. said…
Jul 24, 2012
The Best
2624 SW Coast Ave., Lincoln City, OR, 97367, United States
Date of Stay
Jun 29, 2012
5 Stars
Our large and spread-out family (12 adults, 16.5 grandchildren, spread from Raleigh to Seattle) has used vacation rentals for reunions in central Florida, the Outer Banks, Victoria, B.C. and northern Utah. Without question, this was not only better than any we have used, but better than any we have seen. Debbie has built the perfect home for families like ours–lots of room, close to the beach (without being right on the water), every need anticipated and met. The kitchen (with that huge table) was the hub of activity mornings and evenings. We weren't there to watch movies, but that theater was also terrific. And real beds for everyone! We would go back in a heartbeat; in fact, we are planning to do so in 2014.
Carol S. said…
Jun 24, 2012
SW Coast Ave
2624 SW Coast Ave., Lincoln City, OR, 97367, United States
Date of Stay
Jun 17, 2012
5 Stars
This home is absolutely FABULOUS! We could not have asked for better accommodations for our family reunion. Our only regret was that we didn't make a longer reservation. The home was superb and wonderful–truly luxurious. It would have been helpful to have the walk-thru instructions written down for later reference (too much all at once!). We hope to stay here again in a couple of years–and there'll probably be even more great grandkids–but there'll still be plenty of room! Worth every penny.
My Response
This family group was also FABULOUS! They were extremely respectful of the home and made a few great suggestions, which we've already implemented. Can't wait to have them back, hopefully for a longer stay. Thanks again for your care of our home – glad you were able to make some great family memories there.
Becky C. said…
Jun 12, 2012
Big family reunion
2624 SW Coast Ave., Lincoln City, OR, 97367, United States
Date of Stay
May 29, 2012
The home is immaculate and very high end with details such as crown molding, wainscoting, built ins, expensive furniture and bedding, very tasteful decor tied together nicely throughout the home. I was very concerned about the extensive list of rules and regulations as we were a very large family group with many children. I put the children (who were old enough) that I was most concerned about knowing the rules in charge of presenting them, and it worked out very nicely. They did a great job observing all the rules and we got all of our deposit back. We came to celebrate our parents 50th wedding anniversary and couldn't have been happier. We had 32 people to accommodate from babies to 75year olds. I researched available properties extensively along the northern and central Oregon Coast and this home was the only one that we could comfortably fit in. With 5 children in the family, each with spouses and children of their own and a married grandchild and spouse, we needed a place that had separate rooms for seven family units, and an area big enough to accommodate us for meal time and whole group activities. AND all under one roof. No one wanted to miss out on late night chats or dance parties after putting little ones to bed. There were no complaints! The theater room was amazing. We had a family talent show where most of the 'acts' were pre-recorded. We felt like we were watching ourselves in a real movie, the sound and picture was AMAZING. The beach access is a bit of a walk – 5-10 min, and has a lot of stairs, but the only person in our group that didn't take the stairs down was my 75yr old mom. Debbie was a great property manager and I called her several times with questions and she was always more than happy to answer. Do not be afraid of the extensive rules and regulations. Much of it is stuff you would follow anyway, and the few things that are different are simple enough to follow. After seeing the home, it is understandable why she includes such a list/descriptions. We would both recommend and stay here again. Thanks for a magnificent stay!
My Response
I so appreciate the way this family delegated responsibility for taking care of the home. It teaches respect for other's property and kids get the opportunity to really feel "in charge". We have tried to provide many upscale amenities to the home such as surround sound and DVD players at almost all locations, which is great, but makes for a bit of required instruction. We welcome this family back to our home anytime.
Claudia LITTLE said…
Apr 16, 2012
McMinnville Women's Retreat
2624 SW Coast Ave., Lincoln City, OR, 97367, United States
Date of Stay
Apr 6, 2012
5- Stars
We stayed in bedroom #2 and enjoyed the room very much. The whole house is very beautiful and the week end was a great success. I understand we will be coming back again next year, and we are looking forward to this. I can't think of a thing that I would change. I is a wonderful place to stay. Thank you. Claudia Little and Geri Chandler. McMinnville SDA Church
Luisa H. said…
Apr 1, 2012
Wonderful place to relax
2624 SW Coast Ave., Lincoln City, OR, 97367, United States
Date of Stay
Mar 25, 2012
5 – Stars
Even though it rained during our stay, our Spring break was amazing because the house had all the things you need to have fun for kids like the video games, secret room for the little ones, the awesome theater room which has an excellent selection of movies and wonderful sound, and the fun room with a pool table for teenagers and several living rooms that were quiet where you can play cards or listen to music like the library for the grandparents. It was fun to use the hot tub and everyone enjoyed the wonderful kitchen where you can easily prepare a meal and find everything you need. One of our family's favorite thing, was to see our whole family, (21 people) seating together at the dining table. The rooms and the bathrooms were nice and comfortable. We would definitely stay here again. !!!!
Two-Tier Theater, Hot Tub and Sauna. Sleeps 32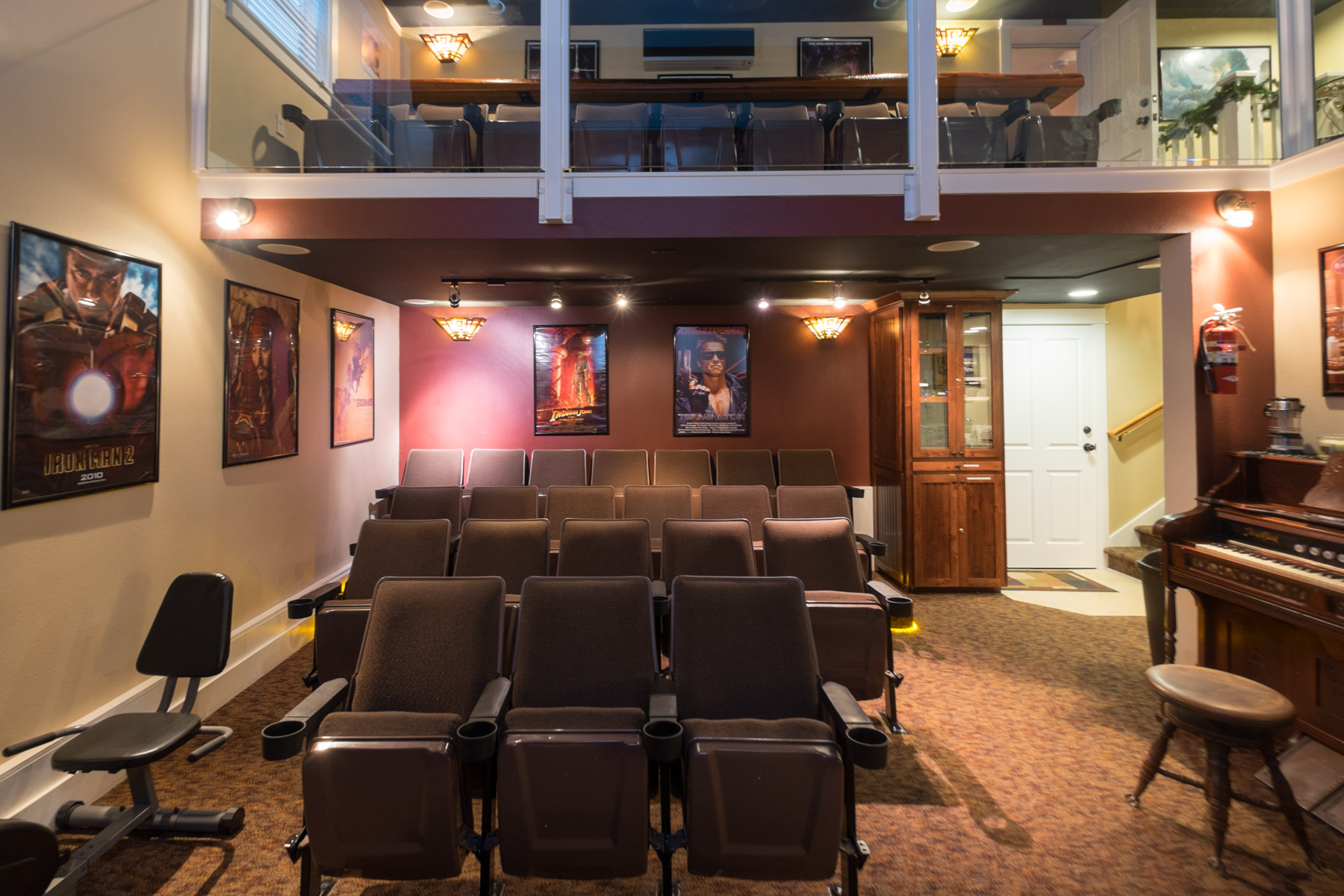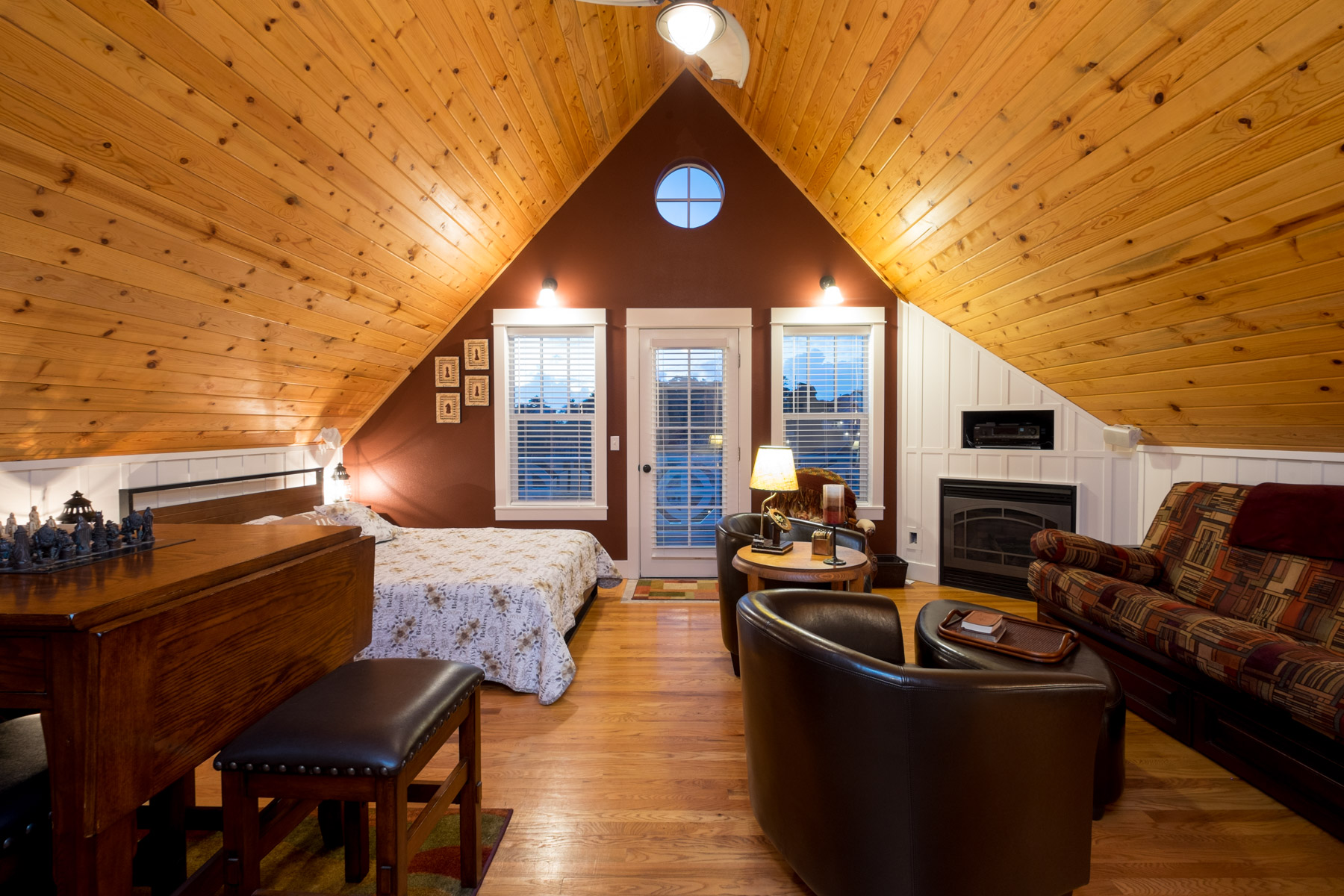 Across from beautiful Olivia Beach in Historic Nelscott area of Lincoln City, this home was built to create memories for groups.
Perfect retreat center for church groups, quilting clubs, Bunko groups, family reunions, etc.  two guest garages, a large RV garage and two large driveways provide ample off street parking for up to 14 vehicles.
There's an elevator to the main floor for guests with disabilities, (however, this is currently not an ADA rated home) and is perfect for loading/unloading food and luggage.  There's a 20 station intercom system throughout the house.
The theater with a balcony is great for watching a  Blue-ray movie, sporting events on the multiple sports channels available or for a Power Point presentation for a training class, seminar or worship service.  There's even an antique pump organ.
2000 + sq ft of deck with 7 picnic tables outdoors, sauna, hot tub, patio with Chiminea fireplace and built in seating and a hot & cold shower. You'll never want to leave.
Home away from home
Rental Policies: Check-in is 4:00 pm, check-out is 11:00 am.  Times are strictly enforced, and the fine is $50.00/hour charged against the guests security deposit, however, guests may schedule in advance an earlier check-in or check-out of a maximum of 2 hours with owner, if possible.   Due to the technical nature of the components in the home, the owner will meet the guest at the home to go over use of the various systems.  Therefore, extremely late check in is prohibited.  Guests must make prior arrangements with owner for approximate time of check in if after 4:00 pm and no check-in will be allowed after 9:00 pm.  Call Debbie at 503-544-1190 for questions or specific needs.